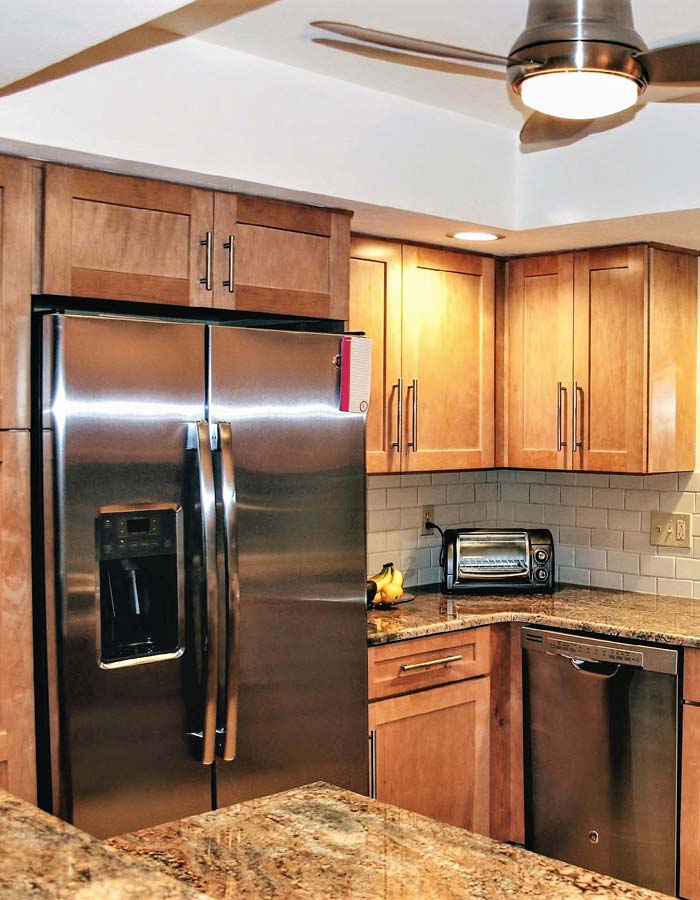 Slide the control side to side to see Before vs. After.
About The Project
This was a small 80's era Kitchen that we increased moderately in size but appreciably in functionality. To achieve this we installe pull out shelves, drawer organizers and a new pantry. The built-in fluorescent ceiling lights were removed and a tray ceiling installed surrounded by recessed LED  Lights.
Bentz Remodeling is the best! I hired them to remodel my 1980 kitchen. I was impressed with the knowledge and professionalism of all the different tradesmen and would not hesitate to use this company again. Scott Bentz followed through on every problem, no matter how small, and got the project finished on time. Bentz Remodeling is wonderful!
My house was built in 1980, and nothing in the kitchen had been updated since then except appliances. When I bought the house in 2005, I replaced the range because the original one was really ugly. Since then, I also replaced all the other appliances because the old ones broke. I hated the formica countertops and the dark tile floor, but I didn't really like cooking anymore, so the old kitchen wasn't a priority.
I didn't know where to start with hiring people to do the work, so I hired a contractor, Scott Bentz of Bentz Remodeling in Tallahassee, FL. The prices of the other contractors I investigated were much higher and it helped that I had known Scott for 35 years. My first year teaching, he was one of my favorite students in one of my 10th grade classes. It was nice working with someone with whom I had a history and felt like I could trust.
Scott told me to first visit certain business and select the cabinets, tile, granite, appliances, etc. His list of contacts was great as all the recommended people knew their stuff. It was obvious from the start of the project that Scott had built a network of tradesmen who were professional and who had years of experience. I always felt comfortable with them in my house and they never had down time. They came in, did their job and left. Scott had a detailed calendar online on which I could see who was coming to work on which date which was extremely helpful.
This remodel took about eight weeks to complete. During those weeks, I washed dishes in the bathroom sink and we killed many trees using paper plates and cups. There were a couple of hiccups but nothing that wasn't corrected quickly. One major problem was my fault. When I ordered the appliances, I thought I wanted a really big refrigerator which is what I ordered. When the delivery men came with it, I knew before they unloaded it that it was too big. Fortunately, I bought all of my appliances from a local business and they happily helped by replacing it with a cabinet-depth unit without charging me a restocking fee. Thanks Mays-Munroe! The refrigerator is smaller, but I kept my old one and put it in the garage so I have plenty of storage for extra items. This was definitely one time when buying local paid off. I don't think one of the big national stores doing all of this for me.